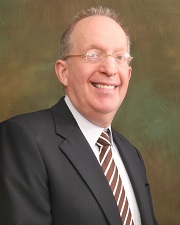 Dr. Fred Rosenberg has been named president and chairman of the board of directors of the Digestive Health Physicians Association (DHPA). Dr. Rosenberg will serve a two-year term, leading the association in its efforts to promote and preserve accessible, high quality and cost-efficient care in the independent gastroenterological medical practice setting.
Dr. Rosenberg succeeds Dr. Scott Ketover, president and CEO of Minnesota Gastroenterology, who will remain on the DHPA board as immediate past president. Under Dr. Ketover's leadership during its first two years of existence, DHPA grew from 11 practices in 11 states to 60 practices in 30 states, representing more than 1,300 physicians who care for more than 2 million people in over 4 million patient encounters each year.
"It's been an honor to work with all of my DHPA colleagues to advocate on behalf of our patients, fellow physicians and independent GI practices," said Dr. Ketover. "Under Dr. Rosenberg's leadership, DHPA will continue to grow and expand opportunities to raise the voice of independent practices—for the benefit of our patients—in our nation's capital and in our respective state houses."
Dr. Rosenberg previously served as vice chairman on the DHPA board of directors, and is president of the Illinois Gastroenterology Group, the largest specialty GI group in Illinois, with 17 offices and more than 40 gastroenterologists. He has provided gastrointestinal care in Lake County, IL since 1978.
"DHPA has witnessed tremendous organizational growth and progress under the leadership of Dr. Ketover, and I am honored to have the opportunity to continue this important endeavor," said Dr. Rosenberg. "I look forward to working with my dedicated colleagues to continue demonstrating that we provide a high quality, less expensive alternative to GI procedures done in hospital outpatient departments."
At the board meeting, Dr. Scott Ketover was honored for his leadership in DHPA for its first two years, as were Dr. Thomas Shireman, who served as secretary, and Dr. Kyle Etzkorn, who served as treasurer.
Several new members were named to the executive committee. Dr. Michael Weinstein of Capital Digestive Care, who was previously DHPA's chair of health policy has been named vice-chairman;  Dr. David Ramsay of Digestive Health Specialists, PA has been named secretary; Dr. Mike Dragutsky of Gastro One has been named treasurer; Dr. Lawrence Kim of South Denver Gastroenterology, PC has been named chair of health policy; Dr. Marc Sonenshine of Atlanta Gastroenterology Associates has been named chair of communications, and Dr. Charles Accurso of  Digestive HealthCare Center and Dr. John Hong of United Gastroenterologists have become at-large members. Other members of the 12-member committee include Kevin Harlen of Capital Digestive Care as executive director; Dr. Arif Aziz of GI Specialists of Georgia as chair of data analytics; and Dr. Pradeep Bekal of Ohio Gastroenterology and Liver Institute as an at-large member.