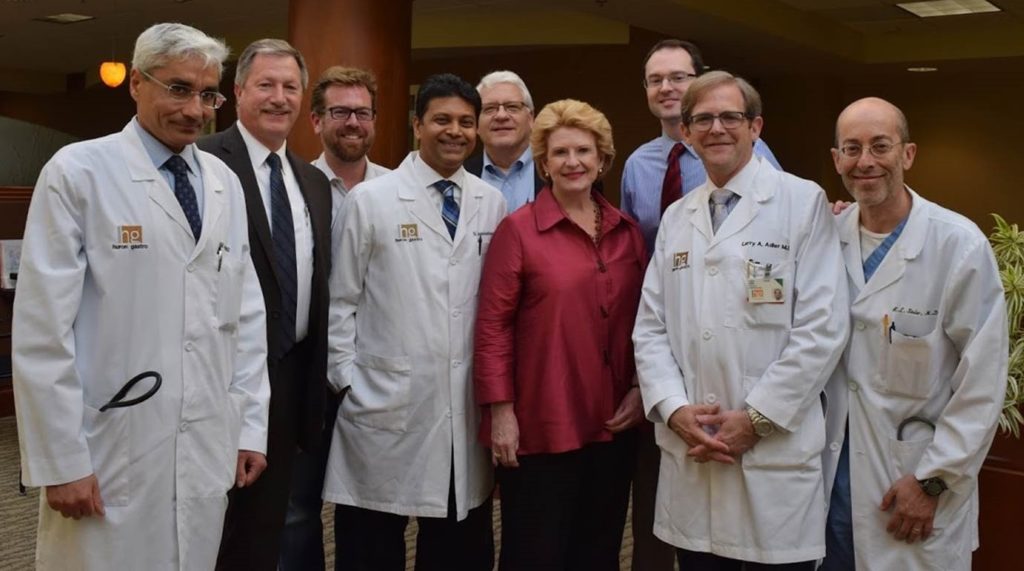 U.S. Senator Debbie Stabenow (D-MI) visited DHPA member, Huron Gastroenterology, and met with the group's physicians regarding healthcare issues being debated in the U.S. Congress. DHPA Board member, Dr. Naresh Gunaratnam, who also serves as research director at Huron Gastro, and his colleagues discussed with Sen. Stabenow the importance of preserving the high quality, cost efficient services provided by independent, integrated physician practices.
A wide range of issues were covered during the meeting, including the American Health Care Act, site of service payment differential, Medicare and Medicaid reimbursement rates, the opioid epidemic, drug pricing, pending legislation (for which Senator Stabenow is a co-sponsor) that would protect Medicare beneficiaries from incurring greater financial obligations when a screening colonoscopy becomes a therapeutic colonoscopy and the need to modernize the Stark Law.
As a senior member of the Senate Finance Committee, Senator Stabenow will play a significant role in debates regarding Stark Law modernization, and DHPA looks forward to working with her and her staff to ensure that independent GI physicians are able to engage in the value-based payment models incentivized by the Medicare Access and CHIP Reauthorization Act.
Click here to learn more about modernizing the Stark Law.
Click here to learn more about legislation to remove barriers to colorectal cancer screening.
Click here to learn more about Huron Gastroenterology.