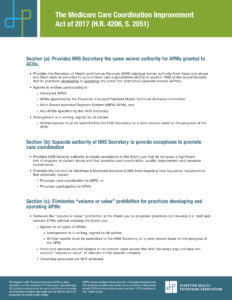 DHPA strongly supports the Medicare Care Coordination Improvement Act of 2017 (H.R. 4206, S. 2051), which promotes care coordination and will enable physicians to participate more fully in the value-based payment models incentivized by the bipartisan Medicare Access and CHIP Reauthorization Act of 2015 (MACRA) (Pub. L. 114-10, enacted April 16, 2015).
H.R. 4206, was introduced in the U.S. House of Representatives by Rep. Larry Bucshon (R-IN), Rep. Raul Ruiz (D-CA), Rep. Kenny Marchant (R-TX) and Rep. Ron Kind (D-WI). A companion bill, S. 2051, was introduced in the U.S. Senate by Sen. Rob Portman (R-OH) and Sen. Michael Bennet (D-CO). The legislation has the full support of 24 physician organizations representing more than 500,000 physicians.
Click here to read the full fact sheet.